Introducing AI Powered Instant Quoting
An Effective Way To Offer Your Customers Instant Quoting And Instant Booking Options Even For Complex Pricing. From potential lead to booked and on the schedule by utilizing this powerful feature.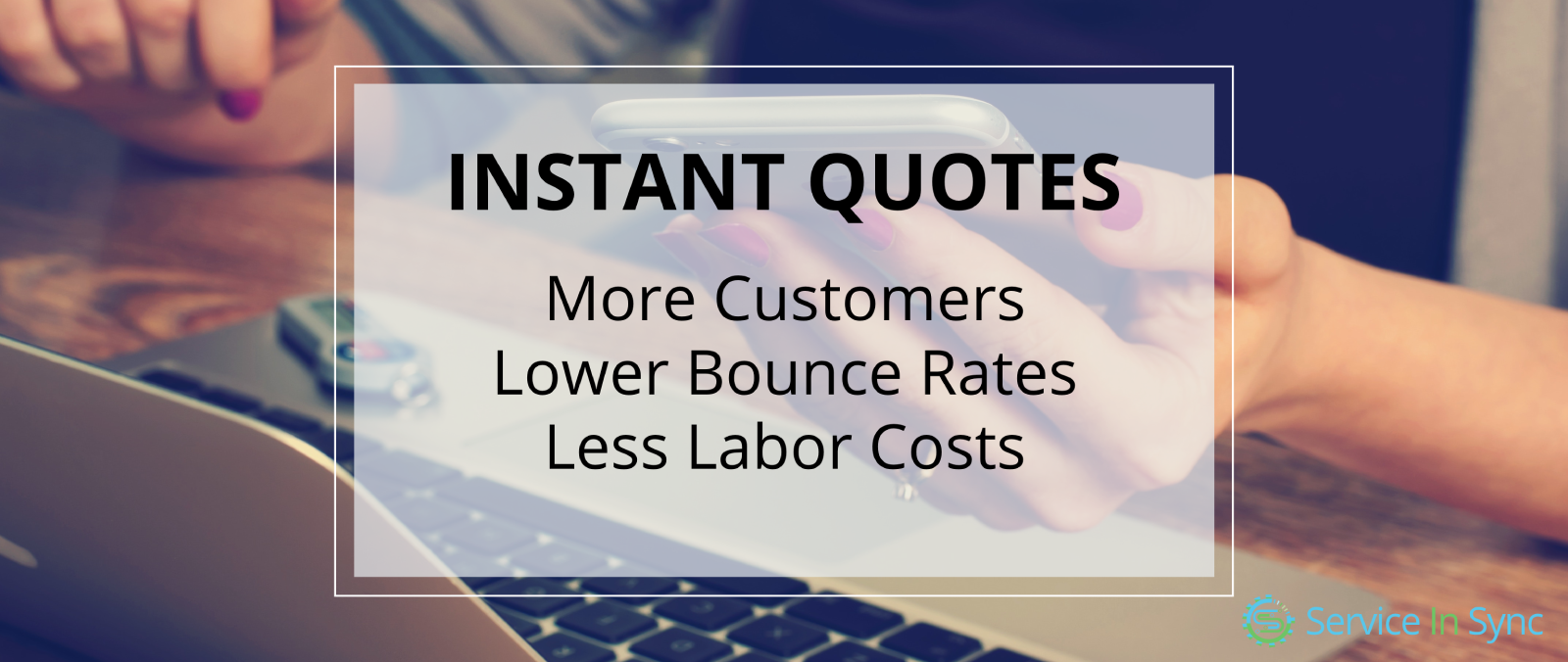 In today's world a customer expects instant quoting and instant booking as part of their shopping around for home service providers. In many cases potential leads will get to a website, see they need to "call in" or "contact" to get an estimate or pricing and simply move on to the next provider. Or in some cases they can see pricing but can't schedule anything and need to call in or "get in contact" to schedule service. Both of these scenarios push the customer to continue shopping around for other providers and pricing. Which means you most likely lost a lead and a booking. AI Powered Instant Quoting can help solve this problem even for jobs that require complex pricing structures.
What is AI Instant Quoting?
AI Instant Quoting utilizes artificial intelligence aka AI, extra address inputs, and your training data to properly price out complex projects. Using this feature will not only put you far ahead of most of the competition but it will free up staff man hours from spending time giving quotes, answering the phone to give quotes, and calculating pricing. AI Instant Quoting simplifies and speeds up the entire get a quote process by providing accurate time and price estimates instantly.
Get more customers, book leads instantly, and reduce time consuming case by case quoting for each appointment.
The inefficient way of doing it is to try and create a simple pricing system with broad or higher prices that will cover all leads to be able provide "instant quoting". The problem with that is you need to charge higher prices for jobs that may actually be less as a coverall rule to make sure you don't lose money on the appointment since. This in turn turns customers away to competition who may have a lower price or already given a lower estimate previously. So how do you provide instant quoting to your potential leads or existing customers that is both accurate, and instant?
Service In Sync's integrated AI Instant Quoting is ready to go and solves this problem for you. You simply setup the extra address inputs or variables that determine the price. This could be things like how many square feet is your lawn, or how many pets do you own, how many window panes on your home, how many levels are in your home, etc… It just depends on what variables you use to determine pricing. Using those variables you can train the AI by providing a few price points for each combination. The AI will then learn from the few points you've provided and automatically understand how your quoting system works, regardless of how many variables or how complex it is. With this increased accuracy jobs that competitors manually quote out will be lost because you've provided an accurate, enticing quote instantly to the customer instantly on demand.
This advanced pricing tool is not only for customers, it lets you control pricing across the organization so staff or sales team can all be on the same page when it comes to pricing, regardless of how large or how many changes you make on the fly.
Quick Adjustments
The best part of your business utilizing the instant quoting feature is that you are able to make quick adjustments to the AI on the fly. That means that if you wish to change your training price points you can, and as you change them the AI will re-learn immediately your new pricing. A quick and easy way to adjust your pricing yearly, or how often you like.
Not just price, time too.
One of the overlooked things when it comes to instant quotes is instant time estimation as well. In order to do one, you need to do the other, and quite often (but not always) they directly correlate to each other. That's why our AI also quotes time for the appointment along with price. This way if customers book appointments themselves from their instant quote, they already know how long the appointment will last, and it will be fit and placed properly on the schedule since the duration of the appointment will also be figured out. This tied in with our appointment drive-time and traffic calculator, team availability pooling, business hours, and various other calculations, you get scheduling done right, without wasting tons of man hours trying to find a good spot for that customer on the schedule.
So what does utilizing AI Instant Quoting do for you:
Inbound leads become customers instantly.
Organization wide accurate pricing for staff and customers a like.
A lower bounce rate from potential customers and leads.
Leads end up booking with your company, stopping them from "bargain hunting" with competitors.
Quick price adjustments on the fly if necessary.
Estimates time as well as price, for correct scheduling.
AI quotes and schedules customers 24/7.
Reduce time on the phone manually quoting and cut labor costs.
Interested in trying out the AI Instant Quoter? See the video below with a step by step tutorial on how to get it setup and start using it immediately in your business and on your website.
Service In Sync is an all in one service business software built directly for home service companies to help organize, automate, and supercharge their business. Our cloud based platform is a full 360 system setup to be utilized by you, your staff, and your customers synergizing business operations to reduce cost and increase revenue.